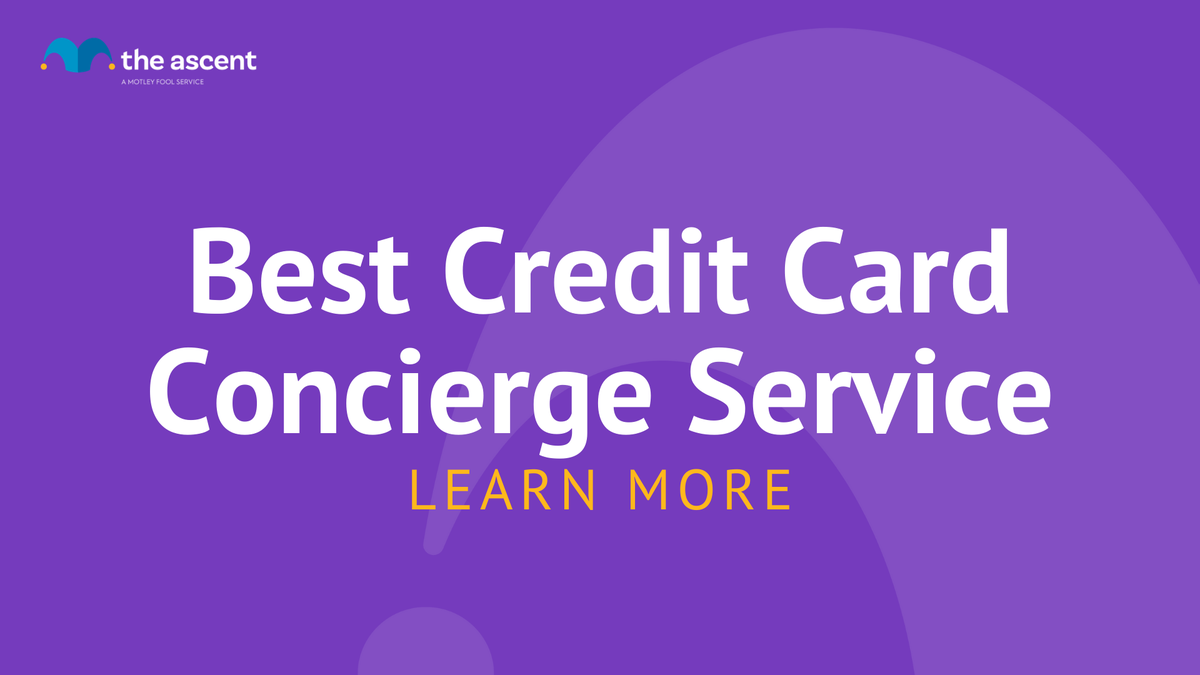 Relationship marketing builds enduring customer relationships to maximize lifetime revenue in place of one-off sales. The Ascent shows you how to implement this strategy for your small business.
Once upon a time, in ye olde business days, each sale was a unique transaction that ended when you collected payment. That was then, but this is now: Customer lifetime value (CLV), the projected amount of total revenue earned from a single customer account, is where the real money is.
This paradigm shift has changed the fundamental nature of customer-business interactions from one-and-done transactions to long-term relationships. We'll go over relationship marketing examples below and the steps to implement this strategy for your small business.
Overview: What is relationship marketing?
Relationship marketing, also known as engagement marketing, looks beyond advertising a single product or sale and concentrates on building customer engagement and loyalty through superior customer experiences. In transaction marketing, the customer journey ends with a purchase, but in relationship marketing, the customer journey is the sum total of all experiences each customer has with your company.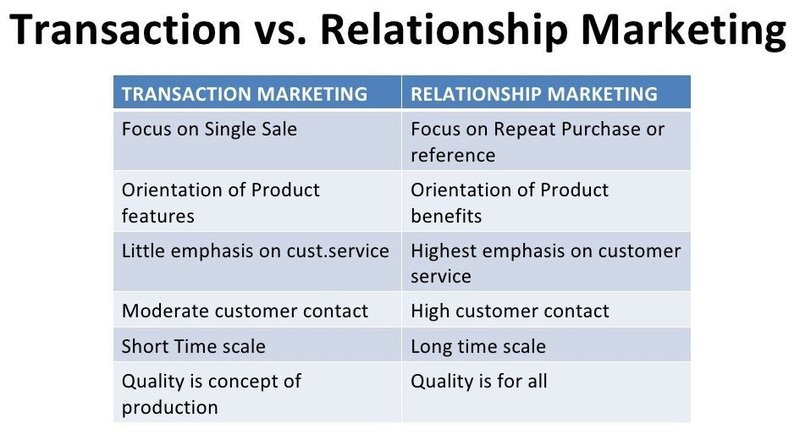 Other relationship marketing elements include:
Customer differentiation: Customers don't want to receive one-size-fits-all communications from companies; instead, they demand individual messages tailored to them.
Two-way communication: Customers don't want to be talked to; they want you to talk with them. They also want you to find them online without having to come to you.
Shared values: Customers want to know companies share their values, something seen recently as multiple businesses, including Etsy, Netflix, and YouTube, released statements in support of and made donations to Black Lives Matter (BLM).
Authenticity: Customers also don't want to be patronized, which has led to criticism of statements from Amazon and the National Football League (NFL) in support of BLM as pandering. Amazon has long-standing ties with police departments, and the NFL earlier banned professional football players from kneeling during the U.S. national anthem in support of BLM. This does not mean their statements are insincere; instead, these examples highlight the need to consider how everything your company says could be perceived.
This marketing concept's power comes from building relations with customers. It is, however, a more complex undertaking than rethinking your social media ad buys or issuing press releases in support of the cause du jour.
Benefits of relationship marketing
An effective relationship marketing strategy will impact your most important key performance indicator (KPI) — the bottom line — over the short and long term.
1. Increased revenue
Transaction marketing focuses on acquiring new customers, but it costs up to five times more to attract a new customer than to retain a current one. After an initial purchase, a customer is also 27% more likely to make another purchase, and after a third purchase, the odds of more purchases go up to 54%. Retaining even 5% more customers can increase profits by 25% to 95%, and 65% of your business comes from repeat customers.
Another bottom-line impact is the cost of attracting a new customer. For both brick-and-mortar and e-commerce businesses, recovering that acquisition cost and generating a profit can require multiple purchases over a year or more.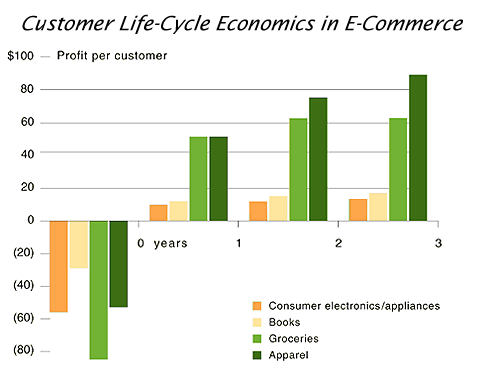 An overemphasis on acquiring new customers at the expense of retaining your current customer base could result in a deep financial hole for your company.
2. Brand awareness
Long-term relationship marketing allows you to leverage loyal customers for increased brand awareness. Before online reviews and ratings, the process to research and compare products was limited. Now your customers can be your best advocates wherever your products are sold or discussed:
Customers' face-to-face and online recommendations give your brand a reach and legitimacy impossible via traditional marketing tools.
3. Competitive advantage
As a business owner, you want every competitive advantage possible. The benefits of relational marketing are well documented, but less than 25% of companies are using it in 2020.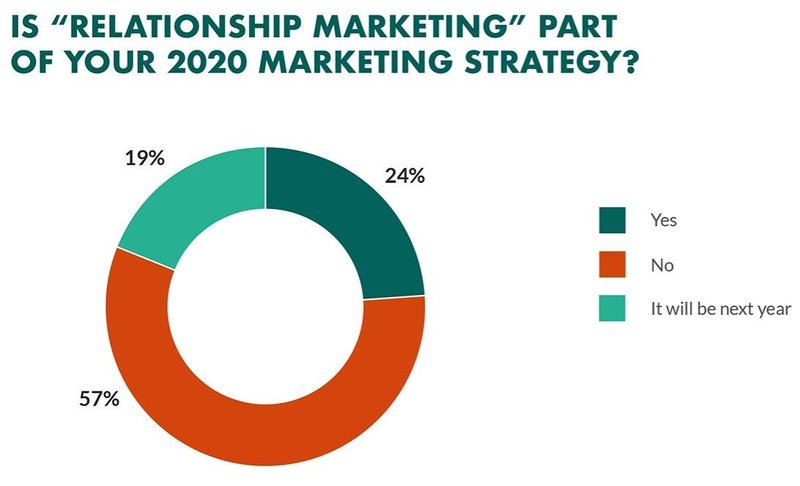 Many factors explain why companies have not gotten onboard with relationship marketing. Almost every organization not suffering financial distress is inclined to continue what it's already doing. And relationship marketing is hard because it forces a company to lean on its public persona, not products and price points alone, and have authentic conversations with customers instead of talking at them.
How to create a relationship marketing strategy in your business
One allure of a traditional marketing plan is its cause and effect approach: You spend money to reach potential customers, some of whom buy your product. Relationship marketing is gooier: Meet your customers where they are, be authentic, and focus on the customer journey, not the product.
Gooey is not bad, just different. Use the five steps below to create a loose-but-tight customer relationship strategy for your small business.
Step 1: Identify your objectives
Implementing a customer relationship marketing strategy requires you prioritize customer relationship management (CRM). You must also
identify your objectives, because CRM without a defined plan or goals will undercut your efforts from the outset.
Be SMART: Ensure your target outcomes are specific, measurable, achievable, realistic, and timely (SMART), because unattainable goals are as unproductive as no goals. Your business lives and dies by hitting defined performance metrics, and the same is true for your relationship marketing, whether it's reducing the rate of customer churn (lost customers) or increasing average customer value.
Use the 6:3:1 formula: This ratio dictates how your small business marketing budget is spent. While it sounds counterintuitive, 60% of your spend focuses on providing value to people unfamiliar with your brand without trying to convert them into leads or sales. The next 30% attempts to convert those familiar with your brand into leads or customers, and the other 10% works to turn existing customers into repeat customers.
Identifying clear objectives provides everyone with goals to work toward. The 6:3:1 marketing spend formula, as backward as it feels (only 40% for generating sales?), is a good budgeting rule of thumb to help shape your marketing funnel.
Step 2: Collect customer data
Your next step is to collect in-depth customer data to identify different purchasing drivers. Someone who buys online as a result of living in a remote area has a different purchase driver than a person who lives in a large city but also buys online even when the same product is available in a nearby brick-and-mortar store.
Questions to answer include:
Who are your customers?
What are their key demographic characteristics?
Why do they buy from you?
When and where do they buy from you?
What drives their repeat purchases?
Traditional purchasing criteria include price, speed of service, convenience, quality, brand, and customer service. More recently recognized consumer purchase drivers include a company's mission, its actions within the collective social sphere, and its treatment of each customer.
The amount of customer data required for this step is too great to collect and analyze on an informal basis. If you don't already use CRM software, you should begin now to capture customers' behavior during their interactions with you and ask them for feedback about their customer journeys.
Step 3: Provide a personalized customer experience
Every customer wants to be treated like a real person, not faceless information in a corporate database. When you receive a generic direct mail piece via snail mail addressed to "current resident," you're not even a number: You're more like a decimal point.
Once you know your customers, their purchase drivers, and where they are online, leverage that data to create more personal interactions:
Go to your customers: Good CRM software monitors mentions of your brand and products across multiple social media platforms, so you can respond in real time. One Morton's Steakhouse fan jokingly asked the restaurant on Twitter to deliver a porterhouse steak when his flight landed in New Jersey. When he arrived, a Morton's server gave him a full meal — steak, shrimp, potatoes, and bread — for free.
Offer customized deals: Amazon sells millions of products but only a minuscule, unique subset is relevant to individual customers, so it examines past purchases to tailor personalized product suggestions and deals for every customer.
Listen to your customers: Your customers want to know you're listening and responding to them. Best Buy shares customer feedback with its suppliers and offers rewards points to some customers based on submitting product reviews.
The multiple options to personalize customer experience can be overwhelming, so start small. For example, adding personal elements to your email marketing — even something simple like addressing your customer by name — can increase click rates by 27%.
Step 4: Reward loyalty
A rewards program is a long-term marketing campaign that incentivizes customers to purchase more of your products and remain loyal to your brand. These programs also attract potential customers when the rewards align with their interests and values.
Typical loyalty programs include:
Points: Customers earn points from purchases to use for upgrades or other perks. These programs are seen throughout the hotel and airline industries.
Spend: Similar to points programs, spend rewards are based on overall purchases and are used at your company. HEB, a Texas grocery store chain, distributes quarterly "rewards dollars" to enrolled customers based on their purchases to spend at its stores.
Referrals: Customers receive money or other perks for referring new customers. Cloud storage provider Dropbox increased its user base from 400,000 to four million in 15 months by offering current users extra storage space for each referral.
Value-based: Customers choose charities a company gives money to. For example, the AmazonSmile program donates 0.5% of the price of a customer's eligible purchases to an approved charity.
An effective loyalty program requires a clear understanding of your customers, their purchase drivers, and how they perceive their roles within society.
Step 5: Measure performance
Customer relationship marketing may seem like an ad hoc collection of different marketing tips, but the metrics to measure its results are not. These marketing campaigns are more labor-intensive than traditional advertising, so a cost-benefit analysis helps identify where your strategy is working and which areas need retooling.
CRM strategy KPIs include:
Average purchase value: Total annual revenue divided by the number of purchases
Average purchase frequency rate: Total number of purchases in a year divided by the number of unique customers who made purchases
Average customer value: Average purchase frequency rate multiplied by average purchase value
Average customer lifespan: Average number of days separating every customer's first and last order
Customer churn: Percentage of customers lost over a given time period
Except for customer churn, these metrics should trend upward if your relationship marketing strategy is working. CRM software once again proves its value here because a good system has the built-in features to track and report this data.
Set yourself up for long-term success
General Motors CEO Mary Barra wrote: "My metric for success can be summed up in one phrase: earn customers for life." Do the same thing at your small business, using the five steps above to implement a relationship marketing strategy.