There is a problem in the UK with skills and training, set out today in a 600-page report by Boris Johnson's own advisers.
It is too early to say at this stage whether this speech by the prime minister and the stance taken by Number 10 meaningfully answers the challenges it sets out in a way that his predecessor failed to do.
There are twin problems.
Britain has an acute shortage in certain key industries like social care and nursing, according to the government's Migration Advisory Committee (MAC).
There are also shortages amongst butchers, bricklayers and welders.
Meanwhile, the next few months could see unemployment reach as high as four million.
Could one solve the other? No, the MAC says today.
The government-appointed, government-commissioned body said the best way to fill all of these gaps is to continue to relax controls and recruit from overseas, rather than look to the domestic workforce.
Its reluctant conclusion – reluctant because it represents a U-turn from the MAC's previous position suggesting an end to overseas low skilled labour – is that in certain cases it is nevertheless "the sensible thing to do".
Furthermore, the MAC goes on to suggest the reason for shortages in social care lies at the feet of government policy and incentives.
"We remain particularly concerned about the social care sector, which is so central to the frontline response to this health pandemic, as it will struggle to recruit the necessary staff if wages do not increase as a matter of urgency," it says.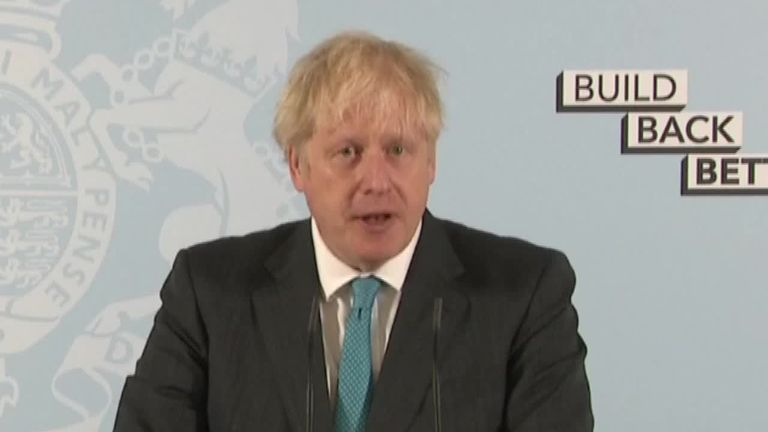 Downing Street does not agree. They want the existing workforce to solve shortages.
They want to insist that the answers to shortages can all be found at home, not abroad.
In a pointed statement this lunchtime, Number 10 said that "recruiting workers from overseas was not the answer", adding "we have set out that we want employers to focus on investing in the domestic workforce".
Politics and policy advice appear to be clashing. Mr Johnson's advisers have long wanted to appeal to blue collar conservatives by adopting an eye-wateringly tough approach on migration.
Since the initial arguments in February about the shape of the new migration system however, the coronavirus pandemic has made the situation much more challenging.
However, Number 10 claim they want to make the unemployed workforce fill existing job shortages by ensuring they are properly trained.
That is what the PM was describing today.
:: Subscribe to the Daily podcast on Apple Podcasts, Google Podcasts, Spotify, Spreaker
Speaking in Exeter, Mr Johnson made clear his priority when allowing workers from overseas is high-skilled migration.
His offer today is to adults in England without an A-level to be offered a training course from next spring, as well as offers to make higher education loans more flexible so that people can "space out" their learning.
This comes on top of the T-level reforms announced by Theresa May, already being rolled out.
The question, with the unemployment challenge likely to be evident before the end of the year, is whether the solution cures the problem.