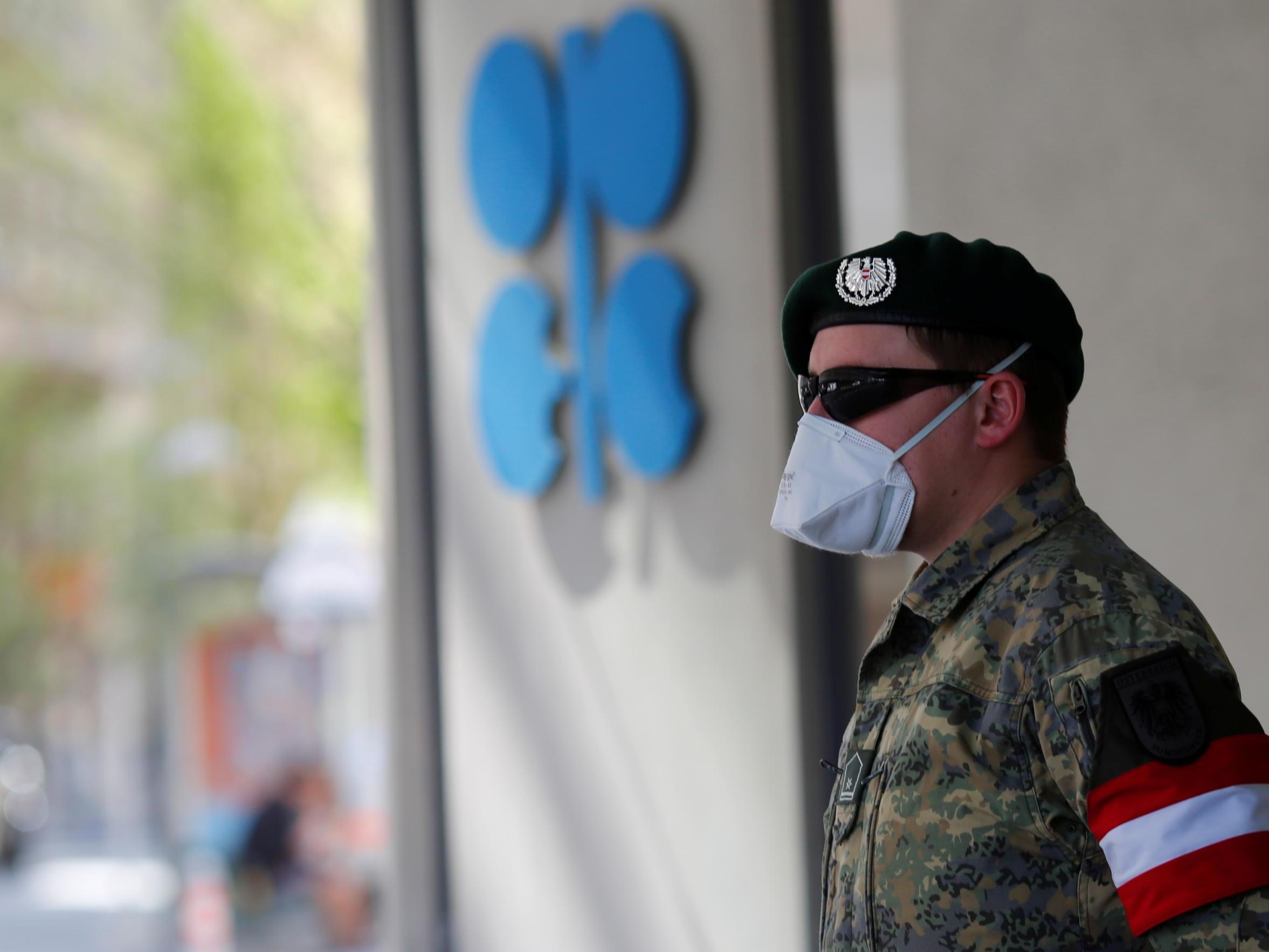 Could this oil deal help underpin global economic recovery?
It breaks all the records for oil deals.
The agreement by the oil cartel Opec and Russia, sealed on Sunday night, to slash oil production by 9.7 million barrels a day means almost a tenth of global supply will be taken out of the market.
It's twice the size of the cuts made by producers during the global financial crisis 12 years ago.
Yet the response of the oil markets has been less than record-breaking.
Despite an initial spike on Sunday night the price of a barrel of crude oil on Monday morning was no higher than it was 10 days ago at $31.
At the end of February, before the row between Saudi Arabia and Russia, it was $53 a barrel.
The market's muted reaction is explicable.
Saudi Arabia, the world's second largest producer after the US, is cutting 8.5 million barrels a day from its production. But after the breakdown in relations with Russia in early March, it jacked up production to 11 million barrels a day.
So some of those headline cuts merely offset the supply glut from the recent price war. There's a formidable amount of black stuff in storage in ships and containers around the planet to get through.
And then there's the demand element of the equation to consider.
The unprecedented lockdowns ordered by governments in response to the Covid-19 pandemic has seen global demand for energy plummet by around 30 per cent.
Opec itself expected global oil demand to fall by 20 million barrels a day in April.
That puts the 10 million barrels a day production cuts in the right context.
As Bjornar Tonhaugen of Rystad Energy puts it, Opec has "only come up with half of the ransom money".
You can't buck the market, as someone once said.
Energy analysts are also doubtful about whether the production cuts will actually be delivered.
Opec is not the cohesive force that it once was. The cartel has suffered from indiscipline internally. Can countries such as Iraq and Nigeria be relied on not to break ranks as their exchequers come under massive pressure in the coming months? And Opec allies are not necessarily reliable either, as the fiasco with Russia clearly demonstrates.
"Trust, but verify" was the cautious view of the US towards Soviet nuclear disarmament pledges during the Cold War. Markets seem to be taking a similar attitude to production cuts now.
And yet it's possible to see something new emerging from the chaos of this price war, in particular the pressure successfully applied by Donald Trump to his Saudi allies and also Vladimir Putin's Russia.
The endorsement of the planned Opec cuts by G20 energy ministers last week and also the International Energy Agency, which was founded by industrialised countries in the 1970s to protect their fuel supplies, could also be significant.
The word is that large oil consumer nations including the US, India, China and Japan are preparing to boost their oil reserves in order to help support the global oil price – and non-Opec western states Norway and Canada have signalled a willingness to cut their own oil production volumes.
"A further step in a global shift towards managed [energy] markets," is how one analyst describes puts it.
Economists had expected the collapse in oil prices to exert deflationary pressure on the world economy. A deal to curb supply reduces some of that danger.
These are early days, of course. But international coordination on oil production could be a significant legacy of this crisis. It's far too early to talk about global recovery when we are still on the terrifying downward slope, but more a more stable energy market could help underpin it when it eventually arrives.